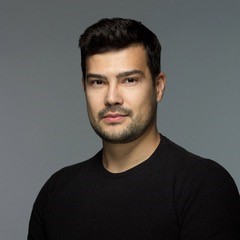 Nick Ciolpan
Managing Partner
Graffino
I'm a self-proclaimed software craftsman, proudly maintaining my sanity in the field of web development since the era of table-based layouts and CGI scripts.
I'm currently striving to ask the hardest, most foolish questions in the room at Graffino, where currently enjoying the exhilarating ride of innovation alongside my fellow product and software experts, having had partnered with and elevated teams and products for some of the world's most influential brands.
Agile. Scrum. Software architecture. Elm language. User experience. Team coaching. Catch me rambling about it all!

Agenda
Follow the speaker schedule.

21 June 2023 — 15:25 to 16:10
Step into my time machine, set the dial, and venture back to the future in a day and age where JavaScript's dominance seems unshakable, yet server-side languages like PHP are making surprising comebacks on the frontend, defying the conventional wisdom of yesteryears.
Read More...
By Nick Ciolpan [Managing Partner — Graffino]