Gold Partners of DevTalks Cluj
Thursday 21 Sep, 2023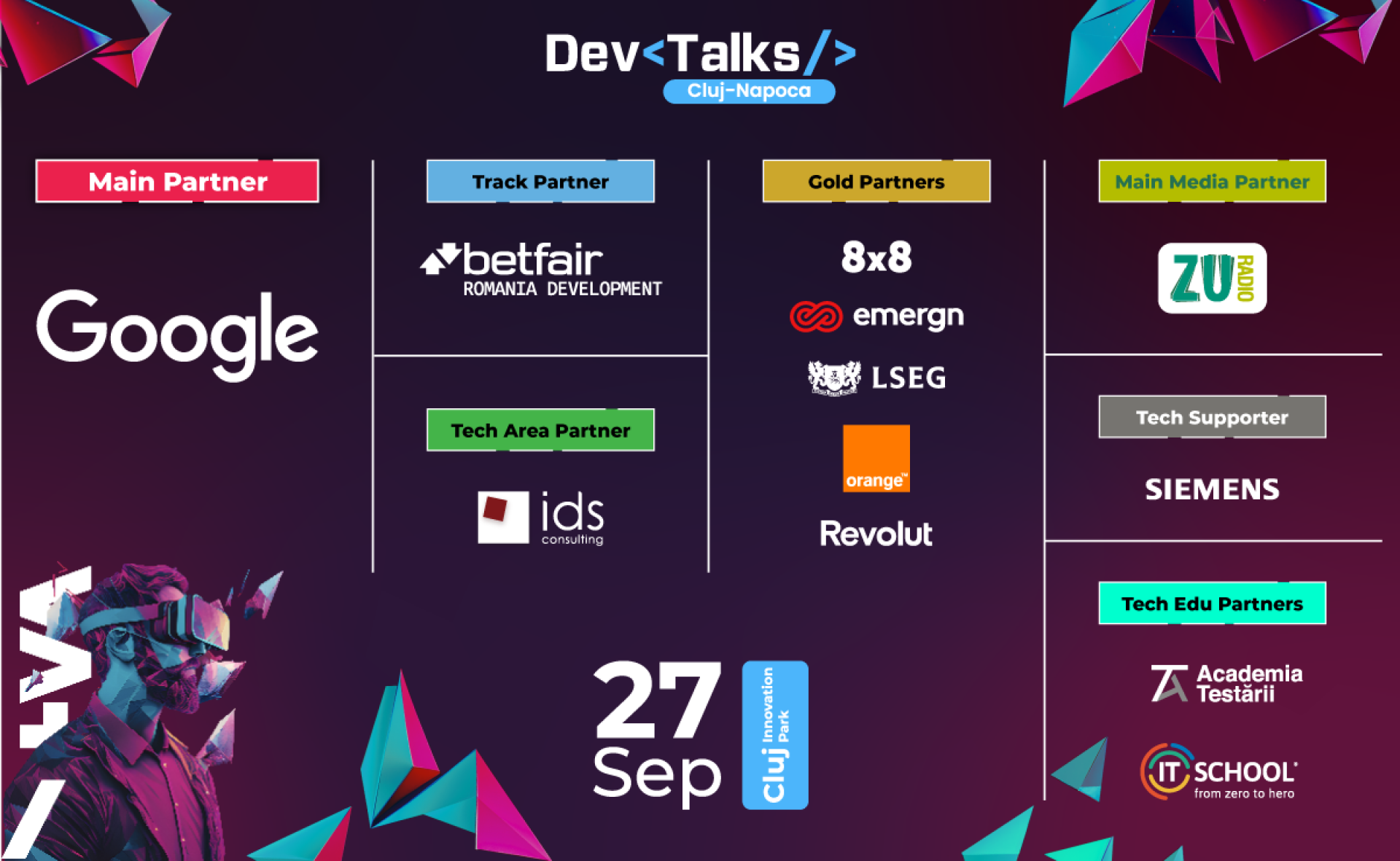 Get ready for the 6th edition of DevTalks Cluj, happening on the 27th of September, at Cluj Innovation Park! In the heart of this edition are its Gold Partners, esteemed companies that play an important role in shaping the conference's success. Let's introduce them:
8x8
Their mission is to enable global workforces to connect individuals and teams, facilitating quicker collaboration and enhancing overall productivity.
8x8 is reshaping the landscape of business communications, revolutionizing how companies connect and collaborate.
Through the seamless integration of voice, video, chat, contact center, and enterprise-class API solutions within a single, secure, and globally accessible cloud communications platform, individuals and teams can stay connected and maximize productivity from anywhere on the planet.
Meet them at DevTalks Cluj!
EMERGN
EMERGN is a digital business services firm dedicated to revolutionizing the way individuals and organizations operate, eternally.
They specialize in accelerating the journey of some of the world's most esteemed enterprises as they transform their most promising concepts into valuable digital products and exceptional customer experiences, all at an accelerated pace.
They term this transformative process "Ideas to Impact."
Get ready to meet them!
LSEG
LSEG stands as a global powerhouse in the realm of financial markets infrastructure, extending its services to over 40,000 clients across 190 nations.
Their core mission is to facilitate innovation, risk management, and employment generation for organizations.
They achieve this by engaging with customers throughout the entire trade cycle: from aiding their pre-trade strategies and trade executions to capital raising, clearing, and optimization.
With over three centuries of rich experience, cutting-edge technologies, and a dedicated team of 23,000 professionals spanning 70 countries, they actively contribute to financial stability, support economic empowerment, and enable sustainable growth for your endeavors.
Are you ready?
Orange Services
Established in 2013, Orange Services is a wholly-owned subsidiary of the Orange Group.
While their roots lie in IT, their talented teams also operate across diverse domains, encompassing mobile networks and various commercial and business functions.
As a pivotal technology hub within the Orange Group, Orange Services serves both Orange corporate functions and country operations on an international scale.
Their teams bring a unique blend of cutting-edge expertise and know-how to the table, offering a wide spectrum of services.
These services include the development and management of IT services, spanning areas such as Big Data, Cloud, M2M, IoT, TV, and Connected Objects.
They are also involved in crafting IT infrastructure and desktop solutions, conducting testing and planning for mobile networks, implementing supply chain solutions, and enhancing commercial and business performance through BI, CRM, Analytics, Digital learning, Customer Care, and more.
Revolut
Financial matters can often seem perplexing and intricate.
Whether you're dealing with international money transfers, managing your household finances, or expanding your business, we've all encountered the complexities and frustrations that can arise.
This is where Revolut steps in.
Their mission is to eliminate all the barriers and obstacles that hinder your financial aspirations from becoming a tangible reality.
They are dedicated to making your financial goals achievable by removing the friction from the process. Meet them on the 27th of September at Cluj Innovation Park!