Betfair – Track Partner at DevTalks Cluj 2023
Wednesday 20 Sep, 2023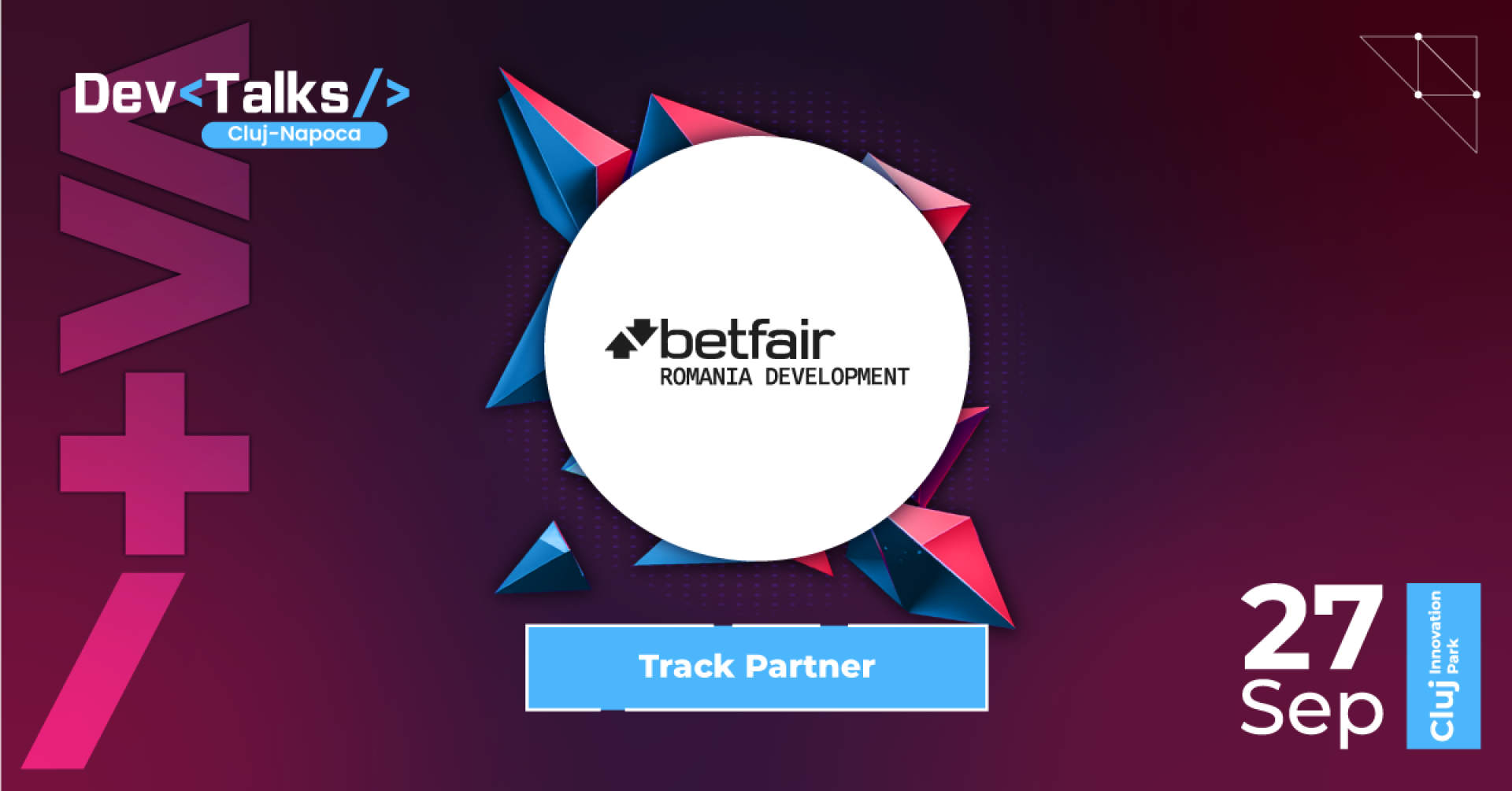 Betfair Romania Development stands as the flagship technology hub within Flutter Entertainment, boasting a workforce exceeding 1,400 individuals who drive the success of the world's premier betting and gaming brands.
They are joining the 6th edition of DevTalks Cluj, as Track Partners, at Cluj Innovation Park!
Nestled in the heart of Cluj-Napoca since its inception in 2007, this office diligently crafts captivating, immersive, and secure experiences for an extensive clientele of over 18 million customers spread across the globe.
Among their ranks, one can find a formidable array of in-house brands, including Betfair, Pokerstars, Paddy Power, Fanduel, and Sportsbet, each demonstrating their unique strengths and market appeal.
Distinguished by their groundbreaking initiatives, Betfair Romania Development consistently challenges conventional paradigms, explores innovative concepts, champions the interests of their clientele, and sets the industry pace.
Their ability to accomplish these feats stems from their exceptionally talented teams, comprised of experts, innovators, and visionaries hailing from diverse backgrounds and walks of life.
Within the realm of software development and various head office functions, numerous flexible career opportunities perpetually unfold.
As they chart the course for the future of the betting and gaming industry on an unprecedented scale, they draw strength from their expansive global reach and maintain a challenger mindset.
This unwavering commitment ensures that their people are equipped with all the necessary resources to thrive and excel, mirroring the resilience and ambition of their esteemed brands.
Across a span of 15 years filled with exhilaration, expertise, and enjoyment, these experiences have forged the bonds that propel them into the future.
But what paved the way for their current success?
It's been a journey marked by dedication, audacity, and a penchant for innovation, with a sprinkle of playfulness for good measure.
Persistent innovation spanning product development, marketing strategies, and cutting-edge technology, complemented by the exceptional talents of a world-class creative team, converge to craft a top-tier offering for their valued customers.
In 2022, a decade and a half since its inception, Betfair Romania Development has blossomed into a unique Flutter Entertainment office, distinguished as the sole one worldwide to encompass representation from all four divisions of its parent company. In addition to Betfair and Paddy Power, this vibrant hub in Cluj-Napoca now fuels the operations of new global brands such as FanDuel, PokerStars, Sportsbet, and Sky Betting and Gaming.
As a cohesive collective comprising over 1,400 talented individuals and operating within the framework of such a monumental enterprise, they ardently embrace the challenge of defying conventions, exploring novel concepts, advocating for their customers, and establishing industry standards.
Their collective efforts remain laser-focused on delivering captivating, immersive, and secure experiences to a vast customer base exceeding 18 million worldwide.
Betfair Romania Development offers a wide array of flexible opportunities, ranging from software development to critical head office functions.
Notably, at the dawn of 2022, amid the ongoing aftermath of the pandemic and amidst an environment of uncertainty, they boldly announced an ambitious objective: to reach a workforce milestone of 1,500 employees by the close of 2023.
Come and meet them!