We bring the greatest speakers just for you!
Wednesday 06 Sep, 2023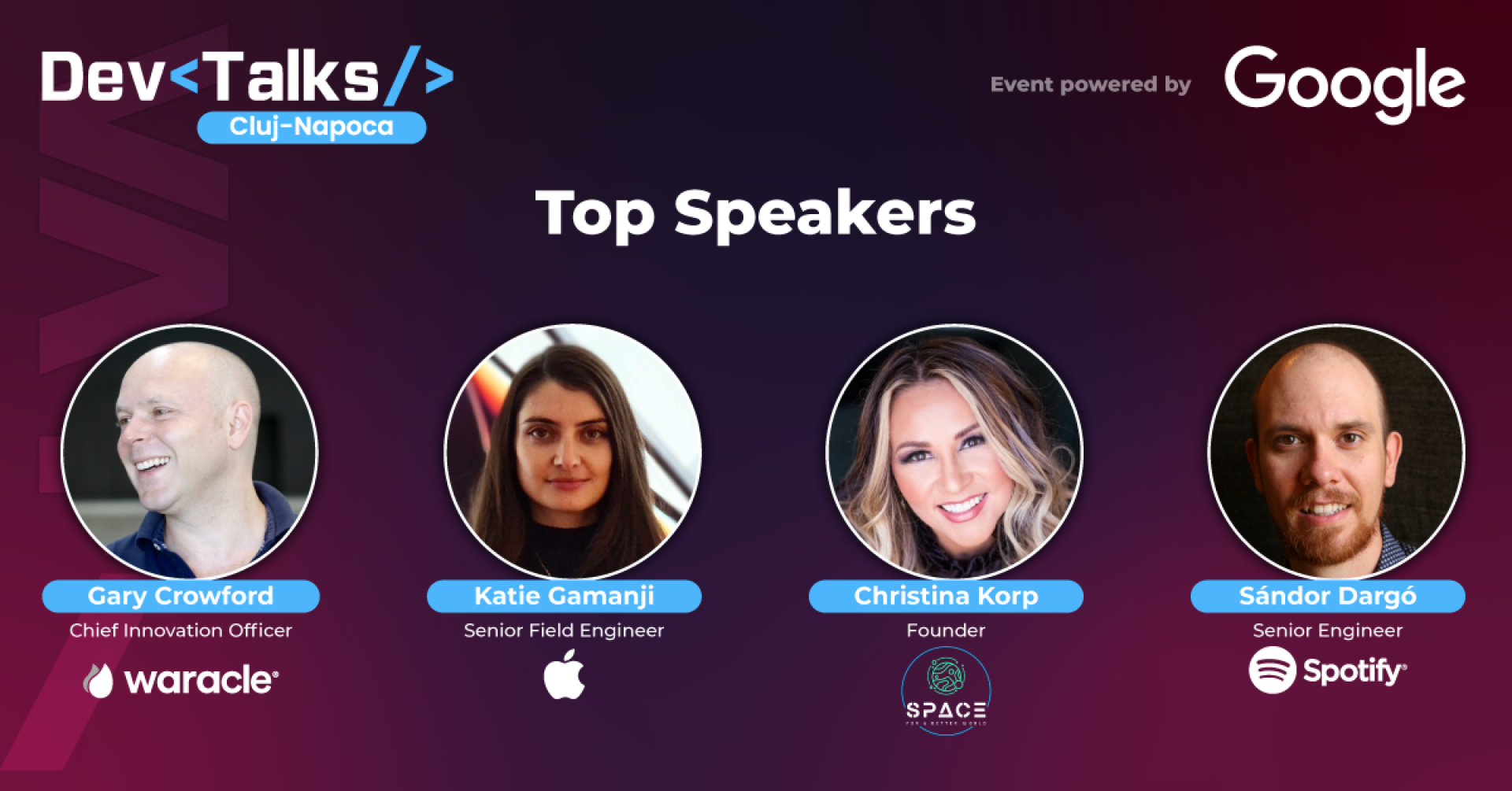 Industry leaders, champions, evangelists, tech pioneers, opinion leaders and powerful thinkers!
They all will reunite their forces back on-site at DevTalks Cluj, to enjoy the real feel of an international experience where you will be inspired by your fellow devs.
Together, we will explore the latest trends in technology with TOP leaders from the IT industry.
Are you wondering how our speakers line up looks like? Here are TOP speakers that you can meet at DevTalks Cluj, on the 27th of September.
Christina Korp – Founder - SPACE For a Better World
Christina Korp is known as the Astronaut Wrangler.
She is an astronaut manager, space advisor, founder of SPACE For a Better World and the president of Purpose Entertainment.
For ten years she managed Apollo 11 astronaut Buzz Aldrin and launched his foundations – ShareSpace and the Aldrin Family Foundation.
She produced the last five galas at Kennedy Space Center celebrating Apollo 11 and the Webby winning and Emmy nominated, Cycling Pathways to Mars VR experience.
Get ready to meet her at DevTalks Cluj!
Katie Gamanji - Senior Field Engineer - Apple
Katie is a cloud native leader, practitioner, and contributor, currently in a Senior Field Engineer role at Apple and a TOC for CNCF (Cloud Native Computing Foundation).
As a cloud platform engineer, Katie has built the infrastructure for Conde Nast and American Express, gravitating towards cloud-native technologies, principles, and Kubernetes as the focal point.
At CNCF (Cloud Native Computing Foundation), she was a Technical Oversight Committee member and led the CNCF End User Community.
At present, Katie advises the Keptn startup and is part of the OpenUK C-suite.
Katie has prepared a great talk for our Dev Community! You can join her on the 27th of September, at the Main Stage!
Sándor Dargó - Senior Engineer – Spotify
Sándor is a passionate software craftsman focusing on reducing the maintenance costs by developing, applying and enforcing clean code standards.
His other core activity is knowledge sharing both oral and written, within and outside of his employer.
When not reading or writing, he spends most of his free time with his two children and his wife baking at home or travelling to new places.
You will have the chance to network with him on the 27th of September, at Cluj Innovation Park!
Gary Crawford - Chief Innovation Officer – Waracle
Fascinated with how technology can impact people, businesses and society, Gary has had the privilege of leading large-scale transformations with global brands in FinTech, MedTech, GreenTech, Mobility, Retail and more.
He's excited by the "art of the possible" and builds teams that combine technology, strategy and design to create the future faster.
He will take the Programming Stage at the 6th edition of DevTalks Cluj!
We have built this community for 5 editions in Cluj and that's why for DevTalks Romania it`s an important edition this year. So that's why we are waiting for you to join us & celebrate toghether the 6th edition of DevTalks Cluj.
Be part of the DevStory! Together we can make waves again in Cluj! See you at Cluj Innovation Park, on the 27th of September!