DevTalks Cluj – the place where Tech Giants will reunite
Tuesday 05 Sep, 2023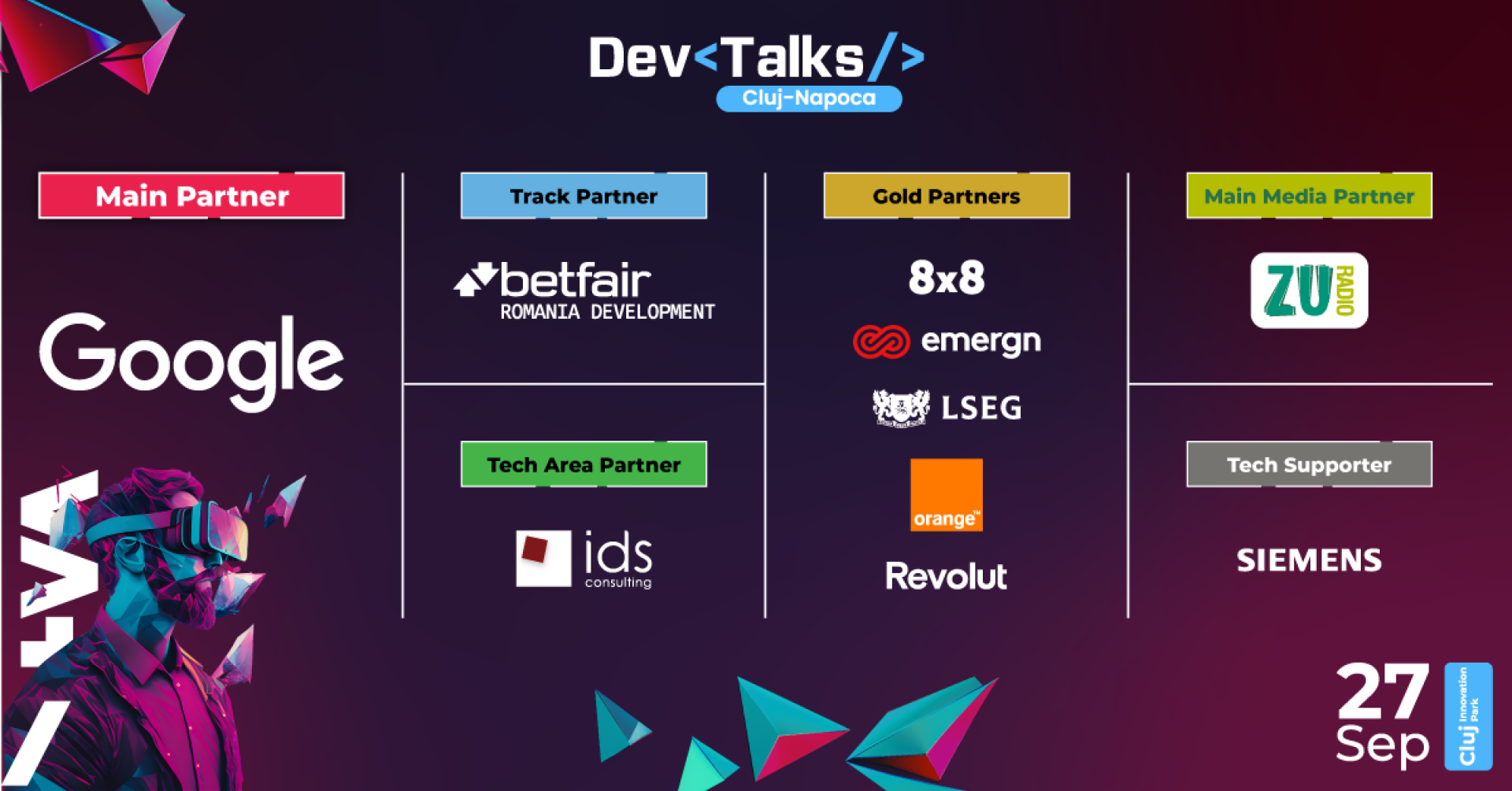 In the challenging world of technology, the tech partners pave the way to a groundbreaking edition of DevTalks Cluj.
We are delighted to present our great partners for the DevTalks Cluj-Napoca 2023 edition!
The industry titan, Google, our Main Partner, leads the charge, among with Betfair Romania Development, EMERGN, 8x8, LSEG, Revolut, Orange Services, IDS Consulting, Siemens and many more to bring their expertise to you, our beloved community. Together, we are unstoppable and we promise to inspire and revolutionize the tech landscape.
DevTalks Cluj-Napoca reaches its 6th edition, on September 27. It aims to bring to the attention of IT professionals the latest TOP technologies that can be explored in the exhibition area, as well as dozens of conferences and workshops supported by international and local speakers.
At the Tech Edu Area, dedicated to small developers, we believe in empowering the young minds with the tools and knowledge they need to thrive in the digital age.
Within this engaging space, children between age 6 to 14 will have the opportunity to explore the exciting world of technology through interactive workshops, coding sessions, and educational games.
DevTalks Cluj is committed to inclusivity and diversity within the tech industry. In recognition of the invaluable contributions of the women in tech, we are proud to have present the Women in Tech Area.
We are humbled by the trust of Google Romania, the Main Partner of DevTalks Cluj 2023 and excited to watch some of the biggest names in tech joining our forces!
The goal of Google is to assemble all knowledge and make it widely useful and accessible.
They can make your life easier with a little help from their products.
They are dedicated to considerably improving as many people's lives as they can.
They're specialists are joining us for an amazing experience that will lead you to the latest news and improvements in the tech industry.
Together, our great partners form an extraordinary constellation of innovation.
Stay close to us, mark your calendars and get ready to embark on a journey of learning, networking, and limitless possibilities at DevTalks Cluj, on the 27th of September, at Cluj Innovation Park!