Welcome to the first edition of Bosch Tech Days Romania
Monday 13 Mar, 2023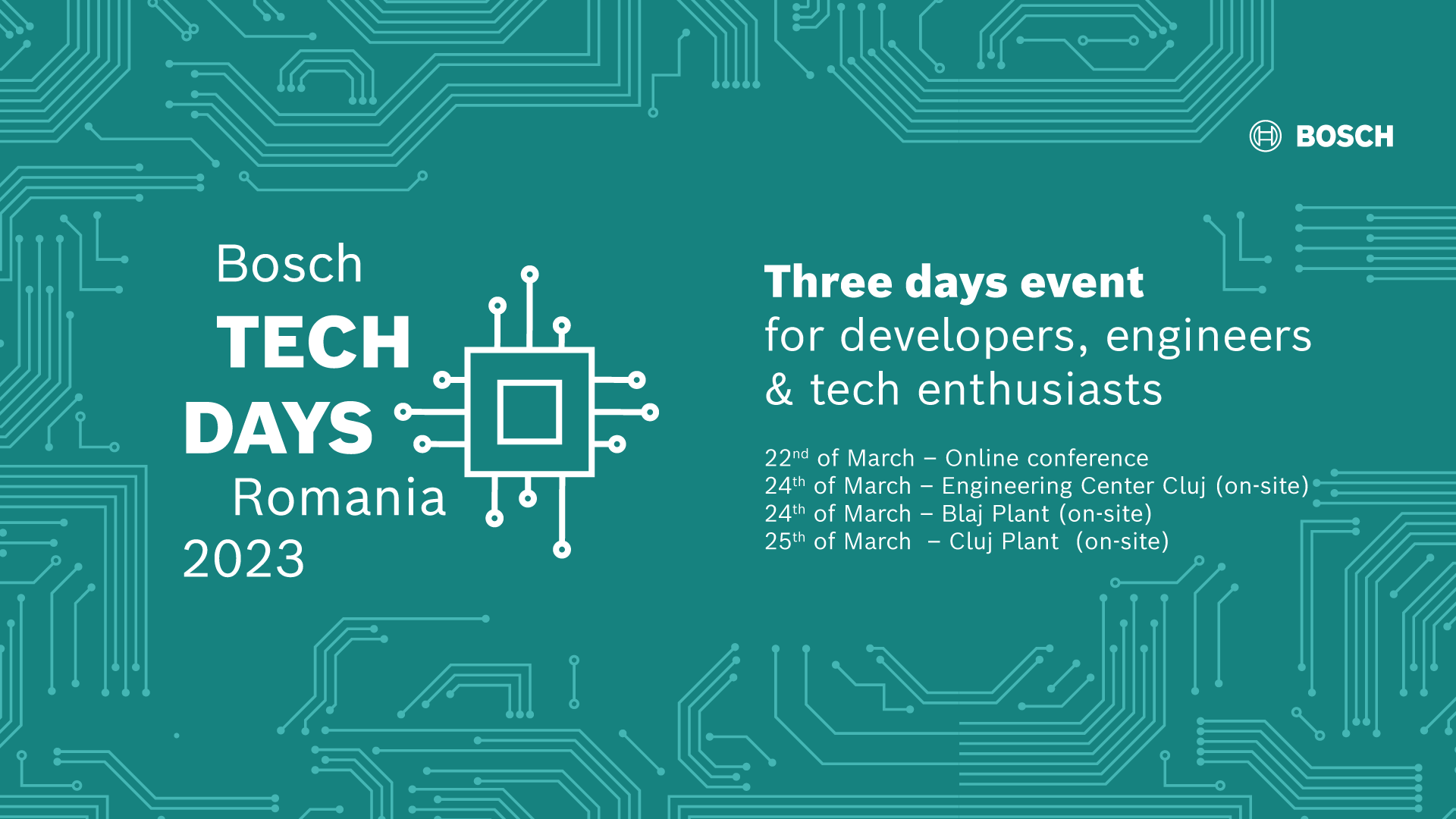 Three days event dedicated to #LikeABosch technologies.
In March 2023, a premiere event will take place in Romania. Bosch Tech Days Romania is a three days event tailored for developers, engineers and tech enthusiasts, and it will start with a full-day online conference followed by on-site events dedicated to networking. And as learning and curiosity are for free, so it's the access to Bosch Tech Days. 
Along the three days, you can emerge into a new era of mobility & industrial technologies with Bosch experts and guest speakers from the international and local tech communities. Moreover, you can explore the latest connected, intelligent and sustainable technological solutions developed by the Bosch Group and how the Romanian teams contribute to these transformational solutions. Most importantly, you can interact with experts to find answers to all your curiosities about Bosch Romania and the #LikeABosch technologies that shape the present and the future.  
On the 22nd of March, get ready for a full day ONLINE experience and discover a new era of mobility & industrial technologies. You are invited to listen to engaging talks by Bosch experts and guest speakers on hot topics such as: Smart Factories, Digital Warehouses, Connected Production and Logistics, Innovative Software Solutions for Automated Driving Functions, Electric Vehicle Charging and Hydrogen Fuel Cells in Automotive, and a panel discussion about The Human Intelligence behind AI.
 If any of these topics caught your attention, you are invited to a deep-dive together with the local experts at the on-site events which take place on the 24th and 25th of March in three Bosch locations as follows: 
Join the in-person event to get acquainted with the latest software & hardware solutions developed by Bosch for the mobility industry and not only. Meet the great engineering team from Cluj and address all your curiosities to the local experts.
Have you ever been curious about the insights of an automotive plant? Join the event and explore the 300.000 sqm production site of Bosch in Blaj. Come to find out more about our tech, logistics operations and in-house spare parts 3D printing.
Join the event and take a close look at how we use cutting-edge technology, implement digitalization solutions combined with machine-learning and artificial intelligence in order to produce and deliver high complexity electronics.
Bosch in Romania is part of the Bosch Group, a leading global supplier of technology and services. The Bosch Group's strategic objective is to deliver innovations for a connected life. Bosch improves quality of life worldwide with products and services that are innovative and spark enthusiasm. In short, Bosch creates technology that is "Invented for life."