Meet our @DevTalks speakers - Nikolaj Tolkaciov - Testing Practice Lead at Devbridge
Friday 27 May, 2022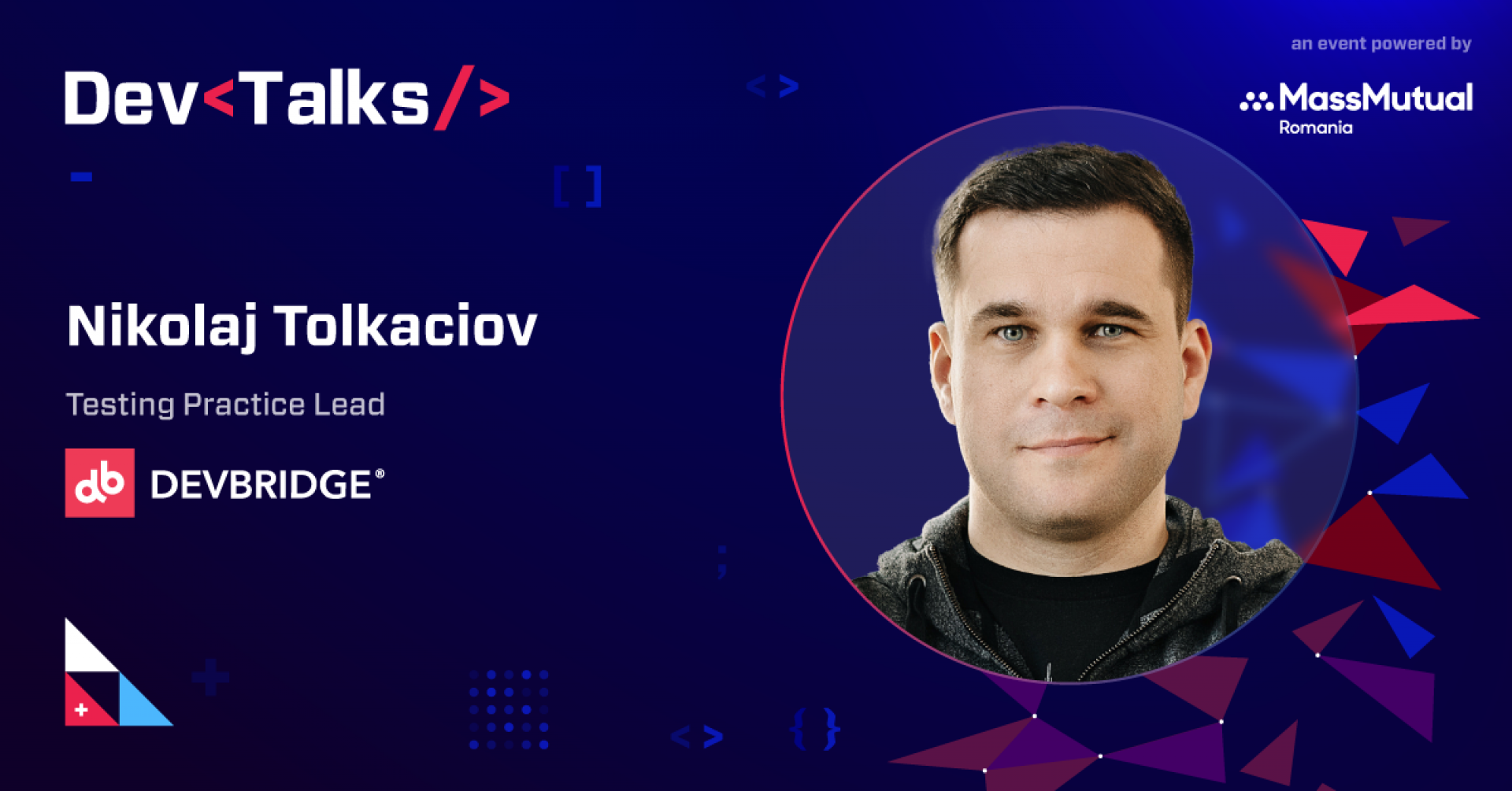 DevTalks 2022 - AI & Innovation. Humanity Reimagined. is the largest expo conference in Romania, dedicated to software developers and IT professionals. You can enjoy a three-day event that keeps you up to date on the newest industry trends and bring together the IT community. Also, it's a great opportunity to meet the most influential local and international speakers. Nikolaj Tolkaciov it`s one of them, and you can meet him at the QA & Testing Stage on 9th June.
#Can you introduce yourself in a few words?
I like testing, but not like a role, but an activity, and I enjoy teaching others how to do that. There is always a hard and a smart way to do things, but it is an exciting part of the job to find that smart way.
#Can you tell us more about your role as a Testing Practice Lead at Devbridge ?
I am supporting the whole testing practice in the company. We have more than 130 test engineers and I help them grow, create, and spread that knowledge. My focus areas are external and internal communication because communication, training, and tools are one of the ways how you can scale your knowledge inside and outside the company.
#What was your IT journey like?
I have finished university in the IT field and my first job was Data Analyst, after that, I tried to find a development job, but ended up in testing. At that time, I was still thinking of converting to developer one day, but with each month spent in testing benefits of that role seem lesser and lesser so I stayed in Testing. Found my way up the ladder to the Testing Practice Lead role and still thinking about where I could make an even greater impact on how we build software. Looking back at my decision to stay in the testing field, it was one of the best outcomes I could ever hope for my career and self-realization.
#What is the favourite part of your job?
Stumbling upon new opportunities and investing 100% percent of my effort into making them a reality.
#How has the industry changed in the last 5 years?
In my home country, it changed a lot. Automation became almost a default skill for any test engineer, but also, we still do a lot of manual stuff and automation did not take that away from us. I like that we did not stop at deploying applications once per sprint, we are trying to further accelerate that. Looking forward to the next 5 years.
#If you had to sum up your career in one sentence, what would you say?

Never stop searching for new ways I can improve myself or the environment I am in.
#What about your hobbies/passions outside your work?
I have two kids, so I try to share their passion so we can spend more time together having fun. But after they go to bed, I have some time to play video games.
#Do you have any advice for aspiring tech people who want to grow in the tech industry?
If you like to learn and find exciting new things to focus on, this industry is for you.
#What has been your favourite event of the last year so far and why?
Offline conferences, no matter the subject or topics, I just missed networking and real interactions with other professionals.
#Short overview about what you will talk about at DevTalks 2022?
I will have a discussion with another Nikolai about the differences between web applications and AI testing. Looking forward to hearing what Nikolai has to share about this topic and learning from him.
#What is your message for our Romania IT community?
See you soon!