MassMutual Romania - Main Partner at DevTalks, the largest expo conference for software developers and IT professionals in Romania
Wednesday 11 May, 2022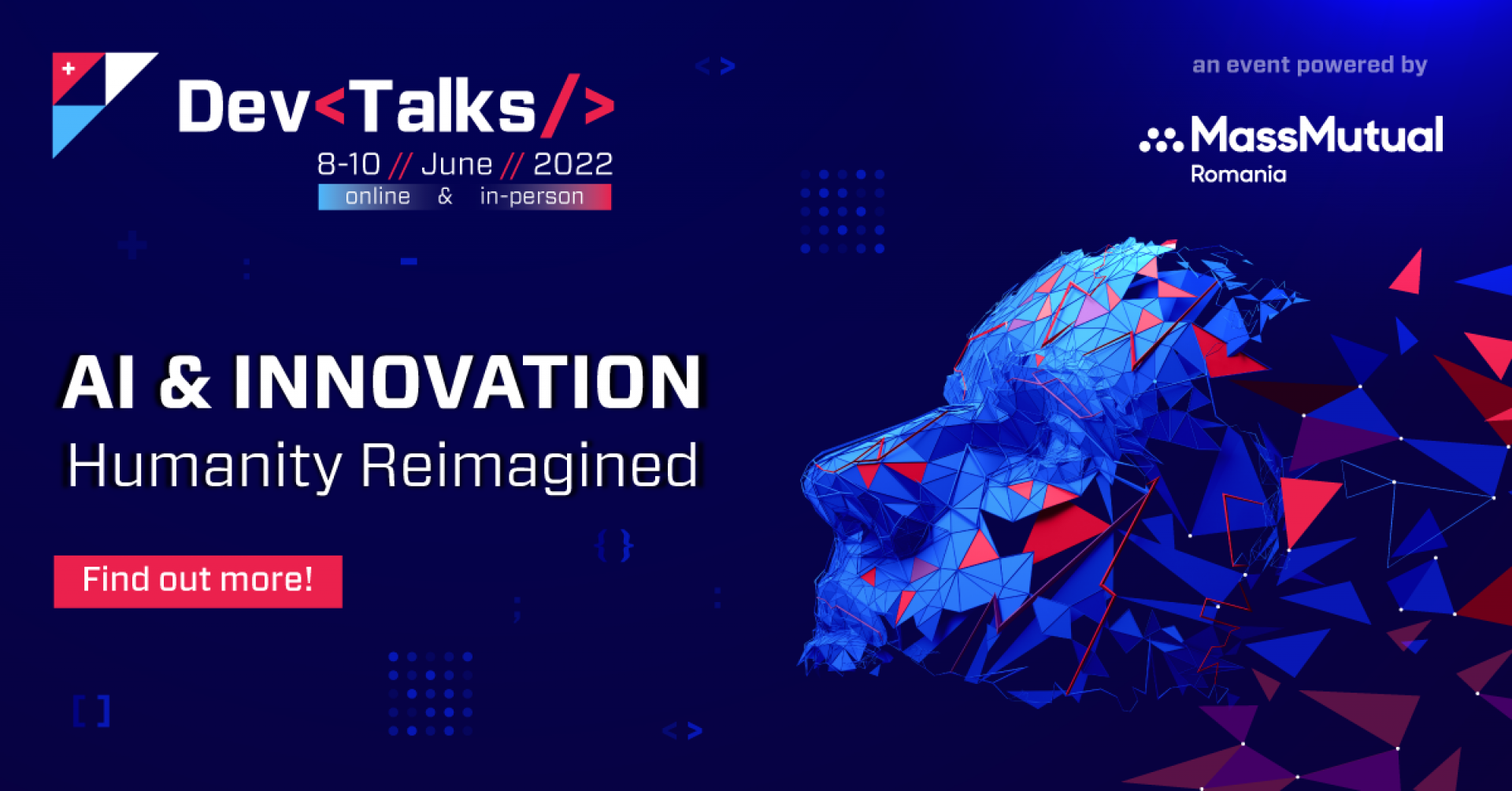 Bucharest, May 11, 2022 - DevTalks Romania, the largest expo conference for software developers and IT professionals in Romania, returns on June 8-10, 2022 in a new hybrid format, in-person and online, under the concept umbrella "AI & Innovation. Humanity Reimagined." More than 400 daily participants are expected at Globalworth Campus Hall in Bucharest and over 8,000 participants are expected online.
MassMutual Romania is actively involved in the development of the local technology market, which is why the company joined the 8th edition of DevTalks Romania as a Main Partner, together with 44 other companies.

This year, the event will cover specific areas such as Java, DevOps, Mobile, Future of Engineering, Web, QA & Testing, CodeClash, Women in Tech, Big Data & Cloud, Security, DevLead, Product Management, and others. The very timely topics in the tech world will be discussed on the Main Stage: Metaverse, Crypto, Blockchain NFTs, and Decision Intelligence.
Michael Makar, Head of MassMutual Romania, will open the first day of the event, and the next day will begin with an intro by Jawad Malik, Chief Information Officer - Barings, partner of MassMutual Romania. During the three days of the event, the audience will be able to take part in technical interventions presented by Lucas Adams - Head of Data Integration Platforms – MassMutual, and John Young, Chief Data Scientist – Barings.
"After two years of interacting only online, we are finally meeting live at this remarkable event. We are excited to be here and support the local tech community. Conferences like DevTalks remain highly valuable for the industry, providing the latest information for IT professionals and creating an environment where specialists can network, exchange ideas and gain valuable new perspectives and insights while having some fun", said Makar.

MassMutual Romania will be present in the physical exhibition area and online, with a 3D virtual booth. Participants will be able to interact with and ask questions to technical experts and company specialists. They will also be able to participate in a treasure hunt where they can win attractive prizes.
About MassMutual Romania
MassMutual Romania – in partnership with US-based MassMutual – is helping shape a culture of innovation through the creation of digital products and technology solutions that help people secure their future and protect the ones they love.
Positioning MassMutual for its next 20 million customers and remaining innovative in a digital-first world led to the creation of MassMutual Romania in 2020. With offices in Bucharest and Cluj-Napoca, MassMutual Romania is building an in-house team with expertise in application development and support, quality assurance, data science, and data engineering. For more information, visit the MassMutual Romania career page.
About Catalyst Solutions
Catalyst Solutions is a Romanian human resources consulting company, specialized in recruitment and employer branding solutions. In its 15 years of experience, Catalyst has become known for some of the largest projects and events in the field, such as: www.hipo.ro, the only career portal dedicated exclusively to candidates with higher education.
TOP Employers, the largest career fair in Romania, takes place on hipo.ro twice a year and brings together 200,000+ candidates and 80 employers at each edition.
DevTalks, an event that brings together 8,000 IT professionals passionate about Web, Java, Security, Big Data & Cloud, DevOps, Future of Engineering, Product Management, Digital Transformation, Mobile, QA & Testing and SAP.
Top Talents Romania, a program that identifies and rewards the most valuable 300 young Romanians.
The Most Wanted Employers Study, the most comprehensive tool on the market that measures the attractiveness of employer brands, as well as the expectations that young people have of them.