Meet our @DevTalks speakers – Isaac Perez Moncho – Head of Infrastructure at Fresha
Tuesday 19 Apr, 2022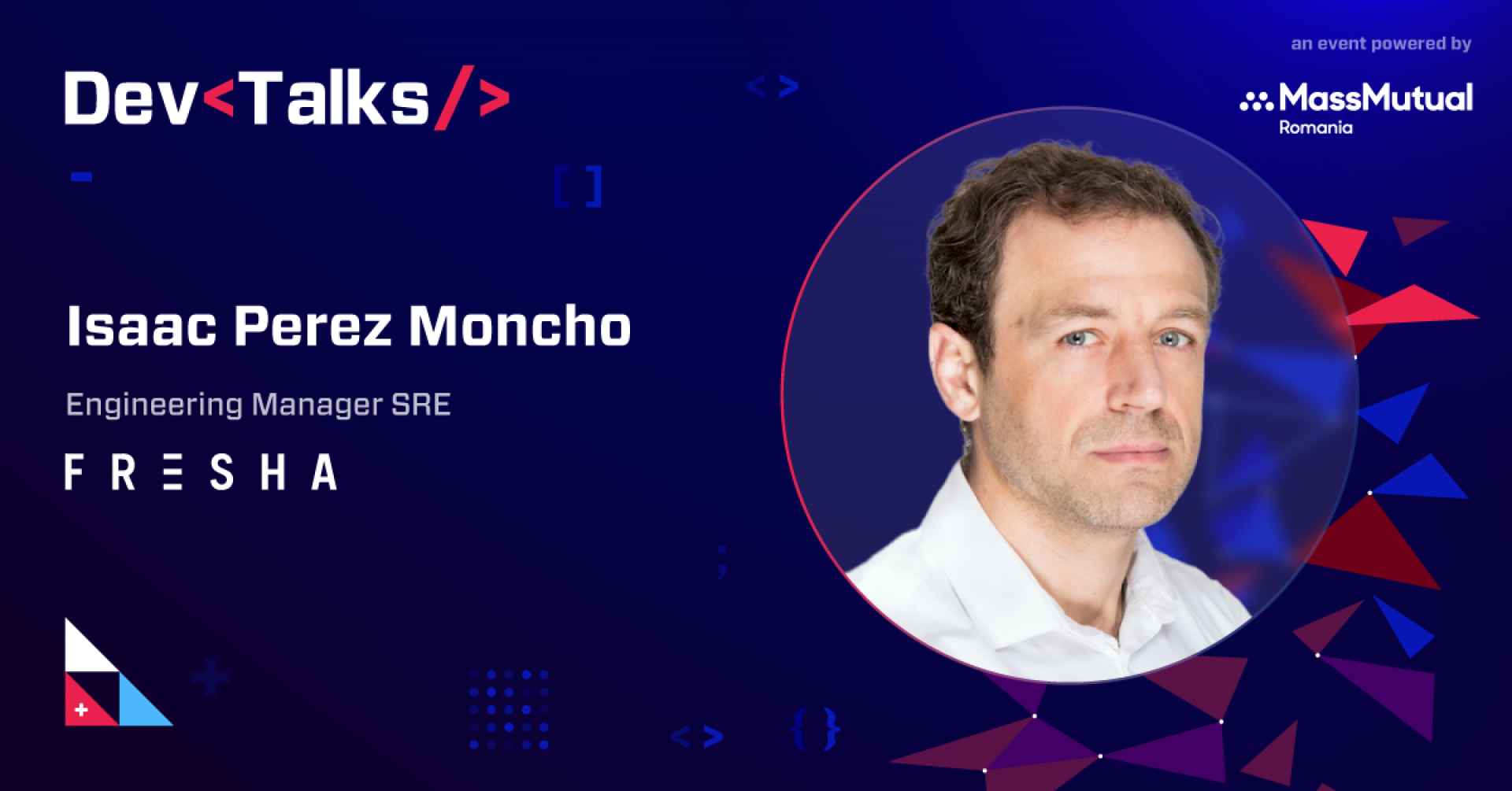 DevTalks 2022 - AI & Innovation. Humanity Reimagined will be back on track on 8-10th of June with an Online & In-Person great edition! Discover Isaac Perez Moncho through this article and find out more on DevOps Stage, on 8th of June.
#What is your current role, and what are your responsibilities?
My current role is Head of Infrastructure at Fresha, managing three teams: SRE, CI/CD and IT Ops. Our main goal is to provide a reliable, secure, performant and cost-efficient infrastructure platform to support the business needs.

We provide our infrastructure by focusing on two main areas: technical and organisational. I focus mainly on the organisational area, with the tech leads driving the technical solutions.
Technically, we own our cloud infrastructure in AWS, Kubernetes clusters, developer platform, deployment pipelines, on-call organisation, company hardware, internal tooling and a big part of the SaaS services. The teams build the tools and foundational infrastructure components that the company needs to deliver a successful product.
Another part of the role is creating a high-performing infrastructure organisation with the right people, teams' structure and processes; and working with other "Heads of" and leadership to ensure we have the right roadmap to support the business and their efforts.
As an example of technical projects, we are currently trialling Backstage as our developer platform, implementing Argo CD as our deployment tool and working on a SaaS management solution to save costs. On the non-technical side, I have focused on having the right processes and metrics for the teams and making our spending cost-efficient.
#What is the job all about? Maybe you can do short storytelling about what one day looks like.
My main job is to create a high-performing organisation that provides business value, which is much easier to say than to do in a scale-up with Fresha's ambitions.
There is only one constant week after week; I spend most of my time in meetings: 1:1s, syncs with other leaders, syncs with the teams and planning sessions.
Depending on the main focus, I can be working on cost-efficiency, team processes, roadmap planning, team building, and hiring. At the time of writing, I am working on three areas:
-Cost-efficiency for our SaaS tooling and AWS
-Hiring a tech lead for our IT Ops team
-Agile processes for one of the teams
#How do you stay inspired, and what resources do you use to learn constantly?
I'm a reader and I consume a fair amount of written content; I follow many engineering blogs and newsletters; the ones I like the most are: Software Lead Weekly, Level Up, the Pragmatic Engineer, Lighthouse, and anything from Will Larson, it is new Infrastructure Engineering project is superb.
A few sources that are not engineering related that expand my learning: Seth Godin and MIT Sloan are probably the two most useful.
For some reason, I do not watch videos. Still, I do listen to a few podcasts on my commute and during workouts: The Tim Ferris Show, Huberman Lab, The Knowledge Project, Creating High Performing Teams, Developing Leadership, and Level Up engineering are some of them.
Last but not least, the best leadership community you can find: Rands Leadership Slack.
#Can you offer an example where you had to manage a difficult situation?
The most recent was when I had to help one of the teams get a project back on track. Due to organisation changes, I started managing a new team and during the first week, we realized that the delivery date of their main project was going to be delayed by two weeks. The project was crucial for enabling product teams to deliver new product features faster. The news of the delay was not received very well by the engineering leadership of the future users.
Given the uncertainty of the situation, I worked with the team to get some more realistic estimations for the project. The more realistic estimation was a month more than the initial delay, so double the initial estimate. The new estimation did not make anyone happy.
I worked with a few team members to devise a plan to speed up the project as much as possible. With the help of the tech leads, we moved a very senior engineer from one team to the other, assumed the impact on the team's OKRs, and showed the sense of urgency needed for this project.
Thankfully, the tech lead came up with an MVP solution that unblocked our internal users to deliver their service faster. The MVP solution gave the team room to breathe and build our Argo CD full solution with less pressure from the users.
The hardest part was that I had to do all this having joined the company three months earlier and before scheduling any 1:1s with the new team. I was fortunate to have the mentioned engineers helping me.
#Do you have any advice for aspiring tech people who want to grow in the tech industry?
The tech industry is fantastic if you like to learn continuously. I would advise anyone to keep learning, find a company with good engineering practices and leaders, surround yourself with exceptional leaders (Rand Leadership Slack 😊), and get a mentor.
I have been working with a mentor for the last few months and I wish I had done this many years ago.
#What is the best job/ work decision you ever made?
The best decision I have ever made was going into management, which is not the best decision for everyone.

Putting my hand up and starting to formally manage a team has changed the kind of impact I can make. Leading and managing are not the same things, but officially managing teams will increase the impact you can make as an individual. It goes both ways; bad managers have an exponentially higher impact than bad engineers. However, good managers who can help create high-performing teams can have an impact that is far greater than the projects the teams deliver.
#The participants will take three key ideas from your keynote: How to understand or make visible, the value SRE/Cloud teams provide to the company.
I want the participants to take the three following ideas out of the keynote: understand your audience; real heroes are invisible; your users don't care about your technology.
You have to understand your audience to communicate your work to them. Do they care about profit and loss? Do they care about user experience? Do they care about reliability?
If you are always seen as saving the day, you are not doing your SRE job well. You must be an invisible hero to do your job well. This brings the need for talks like this one 😉.
Even when they are internal software engineers, your users do not care if you use Terraform, Kubernetes, AWS or Argo CD. They care about the functionality provided by your tools and platform.
#DevTalks Romania