MEET OUR PARTNERS for DevTalks 2022 – AI & Innovation. Humanity Reimagined!
Monday 04 Apr, 2022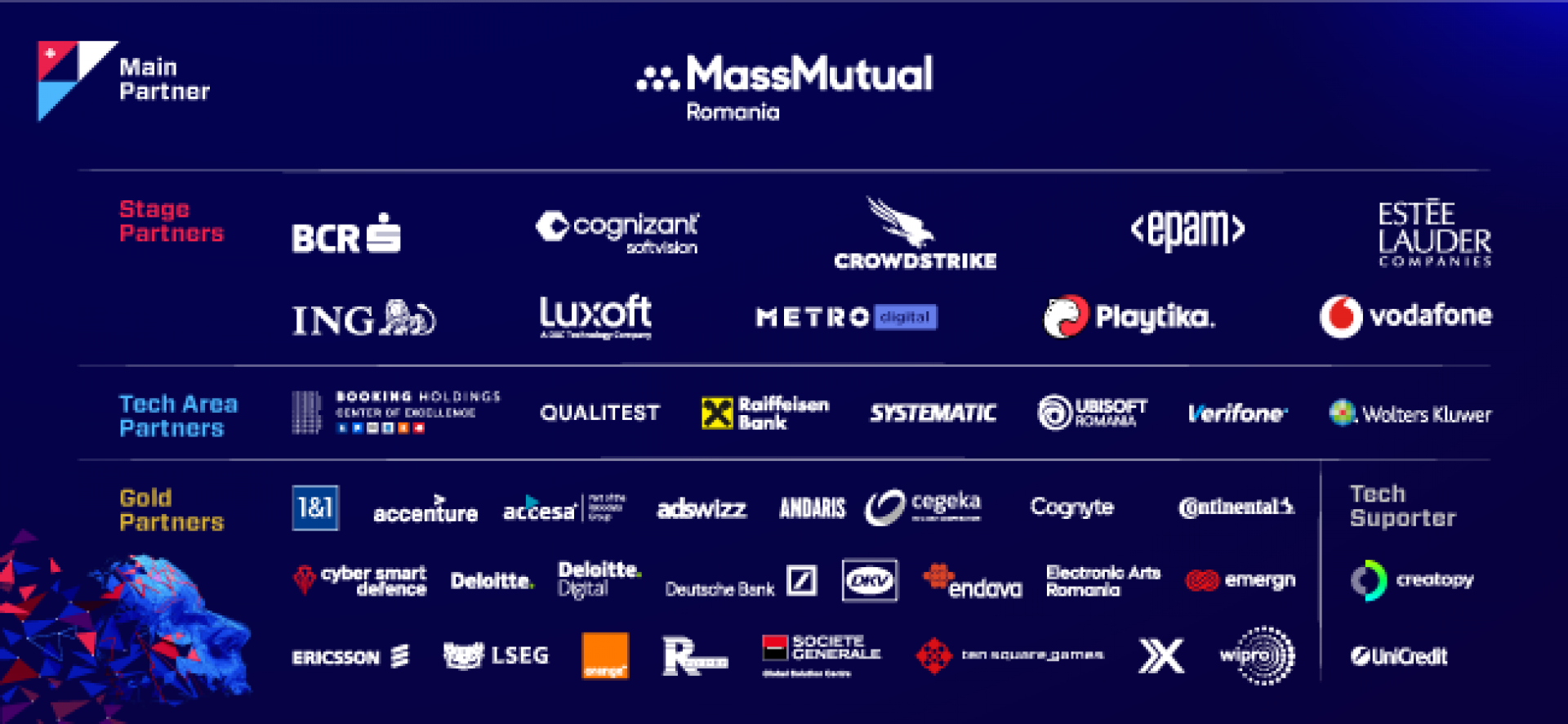 Between 8th and 10th of June we will meet again at DevTalks AI & Innovation Humanity Reimagined, this time in a hybrid mode and we're beyond excited for this! We will be present at Global Worth Tower 3, where you will be able to enjoy the energy of 3 stages that will take place in-person, but also online, with 15 stages available.
Take advantage of exclusive content displayed online and in-person and join us for 3 awesome days, where technology will take over and will get your tech knowledge to the next level.
Our agenda will cover topics focused on Java, DevOps, Mobile, Future of Engineering, Women in Tech, Product Management, Security, QA & Testing, Big Data & Cloud, Web, DevLead, but also topics like metaverse, web 3.0. NFT's and many more.
Having top IT companies and their experts joining the 8th edition of DevTalks means a great value for the future of the IT industry in Romania!
Meet our partners that make the DevTalks 2022 experience possible:
MassMutual Romania gets involved as MAIN PARTNER at the 8th edition of DevTalks.
MassMutual Romania will be present during the 3 days of the conference through experienced speakers, within the technical communities of Java, Data, Engineering, Web & Mobile and many more, and special activation, online and in-person. MassMutual Romania is a leading company that has helped establish an innovative culture and helped develop digital products and technological solutions to help people become more financially secure. They are collaborating to put on an amazing IT conference attended by top speakers who will provide learning tools, code demonstration and the latest updates to technology enthusiasts.
STAGE PARTNER
Playtika @Java Stage Partner is a pioneer in the development of mobile games. Over time, they have provided users with unique gaming experiences, new events, and exciting features! By spotting new opportunities, pushing the limits, and using the technology and talent that we've gained, we move fast in the tech world. Playtika is a team of storytellers and coders, artists and data scientists, explorers and strategists.
Luxoft Romania @DevOps Stage Partner is DXC Technology's design, data, and development arm, offering bespoke, end-to-end technology solutions for mission critical systems, products, and services! Check out our various topics presented by our Partners who will develop engineering innovations, AI-related topics, and join us to learn things about how technology has aided us in our daily lives.
Cognizant Softvision @Mobile Stage Partner creates impactful end-to-end digital products and solutions that result in relevant, memorable and rewarding interactions between brands and consumers. With a unique approach, they deliver sustainable innovation and business transformation for the world's leading brands improving their digital maturity.
Vodafone Romania @Future of Engineering Stage Partner is a leading telecommunications company with a strong IT&C background! Their mission is to connect for a better future, and from their expertise and to scale and provides us with a unique opportunity to drive positive social change.
EPAM @DevLead Stage Partner is a global network of consultants, designers, architects, engineers and trainers who leverages the power of its consulting and design talent, as well as its data expertise, to discover where they can deliver value while meeting customer needs.
BCR @Web Stage Partner is one of Romania's largest financial groups, operating universal banks, leasing companies, private pensions, and a housing bank. BCR employs cutting-edge technology to provide an excellent user experience.
ELC Bucharest Digital Technology Center @Women in Tech Stage Partner powers every aspect of the prestige beauty experience, from providing consumers with the best virtual try-on experiences in-store and online to enabling factories worldwide to consistently produce the highest quality products.
ING Bank @Security Stage Partner is the country's first international financial institution to open a branch in Romania! Their focus has been on developing and continuously improving common IT solutions that can be shared, replicated, and reused across all ING entities.
CrowdStrike @Big Data & Cloud Stage Partner is widely acknowledged as the market leader in endpoint protection solutions by industry analysts, independent testing organizations, security professionals, and customers.
Achieving impressive results with unique wholesale, METRO.digital @Product Management Stage Partner has the solution to cover all supply chain processes in a digital way. Experts in digital wholesale, are here to give you insights that could help develop your career.
TECH AREA PARTNERS
Booking Holdings is our @Security & Infrastructure Area Partner and is the world leader in online travel and related services, provided to customers and partners in over 220 countries and territories through six primary consumer-facing brands – Booking.com, KAYAK, Priceline, agoda.com, Rentalcars.com, and OpenTable. The mission of Booking Holdings is to make it easier for everyone to experience the world. This role with OpenTable will be working closely with our various brands.
At

Verifone

, work with retail innovators and technology leaders to transform the way consumers buy, sell, and gift products and at DevTalks 2022, Verifone will be our

@Fintech Area Partner.
@Software with impact Area Partners - Systematic delivers reliable IT solutions and products that simplify critical decision-making and change lives with Adsevery line of code we write.
Raiffeisen Bank is our @Digital Banking Area Partner and is a leading universal bank on the Romanian market, offering a full range of products and services of superior quality to individuals, SMEs and large corporations through multiple distribution channels: Banking units (over 450 across the country), ATM and EPOS networks, phone-banking.
Wolters Kluwer is our @Tech Area Partner and is a global provider of professional information, software solutions, and services for clinicians, nurses, accountants, lawyers, and tax, finance, audit, risk, compliance, and regulatory sectors.
Ubisoft Romania is our @Gaming & Tech Area Partner at DevTalks 2022! Ubisoft Romania has been an important pillar for our local gaming industry since 1992. Over the years, we have helped Ubisoft develop more than 60 games. Today, Ubisoft Romania is the 2nd largest Ubisoft studio worldwide and continues to tackle gaming and technology's most significant challenges.
Qualitest is @Tech Area Partner and provide innovative and scalable business quality engineering solutions that protect your brand through end-to-end value demonstration with laser focus on customer experience and release velocity and the quality software is key to business success.
GOLD PARTNERS:
Accesa @Gold Partner helps major brands make digital transformations with a high focus on increasing digital capabilities and business agility. They develop and deliver tailored IT solutions to keep our customers ahead in an increasingly dynamic business environment.
Accenture @Gold Partner team help clients to scale and transform their businesses by bringing innovation, intelligence and industry experience together with the newest technologies. Match human ingenuity with the latest technology to make incredible things. Meet the Accenture team at DevTalks 2022.
AdsWizz @Gold Partner is the leading global provider of digital audio advertising solutions, enabling the effective monetization and personalization of digital audio through a comprehensive suite of advertising and analytics solutions.
Founded in 2009 in Bristol in the UK, and supported by two delivery centres in Moldova and Romania, Amdaris @Gold Partner experience's and proven methodology allow them to deliver incredible software. Their business is comprised of talented individuals, working together with a diligent approach to software development.
In a continuously changing world, Cegeka @Gold Partner succeeds in helping businesses to evolve in terms of IT projects. It is our ambition to become the leading European orchestrator of digital business platforms and ecosystems in our focus markets.
Continental @Gold Partner develops pioneering technologies and services for sustainable and connected mobility of people and their goods. Founded in 1871, the technology company offers safe, efficient, intelligent and affordable solutions for vehicles, machines, traffic and transportation.
Cognyte @Gold Partner is a global leader in security analytics software, delivering Actionable Intelligence for a Safer WorldTM to governments and enterprises. They assist security organizations in analyzing and visualizing disparate data sets at scale in order to assist their teams in finding needles in haystacks.
Cyber Smart Defense @Gold Partner uses specialized cyber-threat solutions for businesses' data to be safe from cyber-threats. For the last 5 years, we have helped our clients manage the security of their critical data, assess vulnerabilities in their systems and reduce hacking risks to a high extent.

At DKV Euro Services Romania @Gold Partner products and services move people and goods all over Europe – future-oriented and unhindered by borders. Combining tradition with modernity and can therefore meet all the wishes of customers.
At Deloitte ERDC & Deloitte Digital @Gold Partner, the main focus is to provide professional IT services to clients, and through leading methods and experienced teams they deliver unique solutions.
DB Global Technology @Gold Partner is responsible for designing and implementing innovative technology solutions that sustain the bank's worldwide operations.
Edenred Digital Center @Gold Partner serves as a source of technological innovation, business value, and IT leadership for the Group's subsidiaries around the world. The Edenred Digital Center team creates mobile solutions for deployment and use in all countries where Edenred has a presence. Fin-tech products used to manage Edenred branded cards, as well as digital banking solutions, are examples of these.

Ericsson Romania @Gold Partner builds the full value of connectivity by creating simple, intuitive technology and services that can be used easily, adopted, and scaled by customers.
Electronic Arts Romania @GoldPartner are dedicated by their vision of excellence to have the greatest experience to our players!
Endava @Gold Partner
is an award-winning, global product development and technology services company that helps companies achieve their digital transformation goals through solutions that deliver meaningful experiences to people. By helping clients build or scale platforms for engagement, automation, and coordination, the company empowers people and business processes.

Emergn @Gold Partner is a global digital business services firm, that helps some of the world's most respected businesses develop their most promising ideas into valuable products and customer experiences, faster.
A
t LSEG Romania @Gold Partner, people are passionate about what they do, as they are committed to working with customers to deliver the right solutions, at the right time. Leading innovators in data, analytics, risk, collateral and processing solutions for buy-side, sell-side and post-trade users.
Orange Services @Gold Partner is known for creativity, boldness and dynamism. Because care for details and consequence define Orange's actions and the brand used by France Telecom to provide mobile communication, Internet and television services.
Societe Generale Global Solution Centre @Gold Partner is passionate about innovating banking. With a global presence, domain expertise, and agile delivery methods, they enable clients to grow their business and increase their performance.
With more than 10 years of experience in the IT industry, they hold the status of a worldwide provider in hosting solutions. 1&1 Internet Development @Gold Partner offers various types of hosting services, from shared web hosting packages to high-end dedicated servers and strong security for businesses websites.
R Systems @Gold Partner works with businesses to build a solid digital foundation for the future – one that can help in the rapidly changing digital landscape. They use their deep knowledge of technology, hands-on experience of numerous best practices and business acumen to help clients increase their agility and meet their digital goals.
With years of experience in putting a smile on millions of players' faces worldwide, Ten Square Games @Gold Partner create games that simulate the most popular outdoor hobbies.

Wipro @Gold Partner is a global leader in information technology, consulting, and business process outsourcing. They use cognitive computing, hyper-automation, robotics, cloud, analytics, and emerging technologies to help their clients adapt to and succeed in the digital world.
Verumex @Gold Partner is the real estate industry's first comprehensive solution for investment, asset management and investor reporting. VmX was founded by experienced real estate, technology, and data science professionals who previously founded four other successful start-ups. As investors, the founders have acquired or financed over $10 billion in real estate investments across the globe.
TECH SUPPORTER
Unicredit @Tech Supporter encompasses all information and communication technology (ICT), back-office and middle-office operations, real estate, security, and procurement services. It aims to be a dependable and trusted enabler for the Group, providing simple, efficient, and cost-effective solutions to customers by leveraging flexible delivery, an agile approach, a quick response time, and simple-to-use but innovative solutions.
Creatopy @Tech Supporter is an ad design automation platform helping businesses create and deliver digital ads, combining an easy-to-use editor with advanced automation features.
Brillio @Tech Supporter is laser-focused on turning technological disruptions into the advantages that our customers need to thrive in today's digital economy.

We want to thank our partners for accepting to be with us at DevTalks 2022 AI & Innovation. Humanity Reimagined. Together we can develop great technical content and inspire the IT community to break new frontiers! Stay tuned and don't miss the chance to register at our Online & In-Person edition.